On Monday I shared my colouring video for Tiny Townie Heidi. Today, as promised, I'm sharing the card I created for my coloured image, along with a video showing the process.

Tiny Townie Heidi needs a Hug Spring Card:
As with my post last Thursday (Rosie & Bernie Mini Pizza Boxes with video), I'm filling in for our awesome Sandiebella for the regular DT Thursday post here on the Stamping Bella blog. All month I'm recreating some of Sandie's step by step projects in my own style, with videos.
For today's card I followed one of her more recent tutorials, to create a lovely Spring Card. This turned out really well, and was so easy to make. I think it would give the recipient a smile! Here's the card: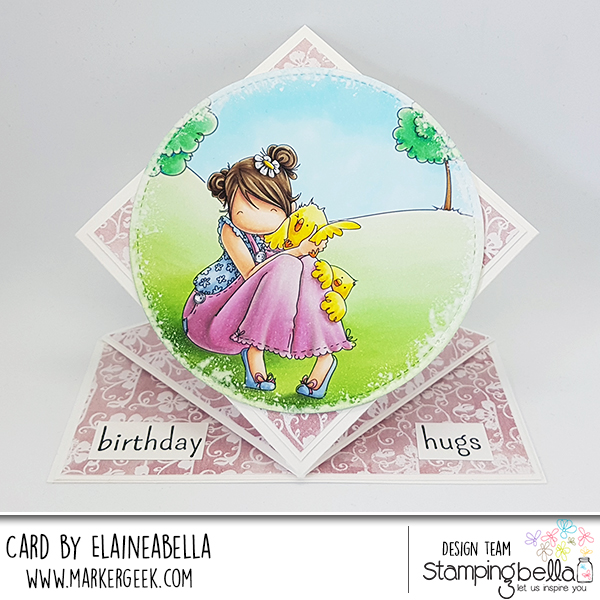 Here's the link to Sandie's step by step tutorial: DT Thursday Create a Spring Card with Sandiebella
Spring Card Video:
Now watch me put the card together in the video below or in HD over on YouTube.
Stamps Used:
Tiny Townie Heidi needs a Hug Copic Colouring Video:
If you missed Monday's post, you can watch me colouring adorable Heidi in the video below or in HD over on YouTube. You can also listen to me waffle about the colouring process – hopefully I make sense and you can get some tips!
Over To You!
Share your personal favourite Stamping Bella creations with us. We LOVE to see what you've been creating with Stamping Bella stamps. Share a link to your latest Stamping Bella card in the comments below, or an old favourite you made a while ago. Tell us what your favourite stamps are. Are there any additions you would like to see to the range? Let us know!
Another way to connect is by joining us in the Stamping Bella Sistahood Facebook Group and share your pictures.
If you are posting your images online, we would love to see them on Instagram and all the platforms mentioned above. To make it easier for us to find you just use #markergeekmonday and/or #stampingbella as a hashtag. Even better tag me @markergeek and @stampingbella . We love it when you connect, so don't be shy!
Until next time, HAPPY STAMPING!
MWAH
Elaineabella